Ice cream, on a bike.
× Like a food truck, but sweeter ×
melbourne
Bringing Melbourne ice cream, on a bike.
A little about us:
Mammoth is bringing Melbourne a brainfreeze on wheels and is located wherever it wants to be, because it's a bike. Now, this pedal-powered ice cream parlour is ready to bring quality scoops to Melbourne's finest parks, beaches, markets, festivals and events.
Our ice cream is locally produced using Italian gelato and sorbet recipes, with only the finest and freshest ingredients.
We can be found across Melbourne throughout the week -- stay tuned on Facebook for location updates.

We're also available for weddings, birthdays, private parties, picnics and events.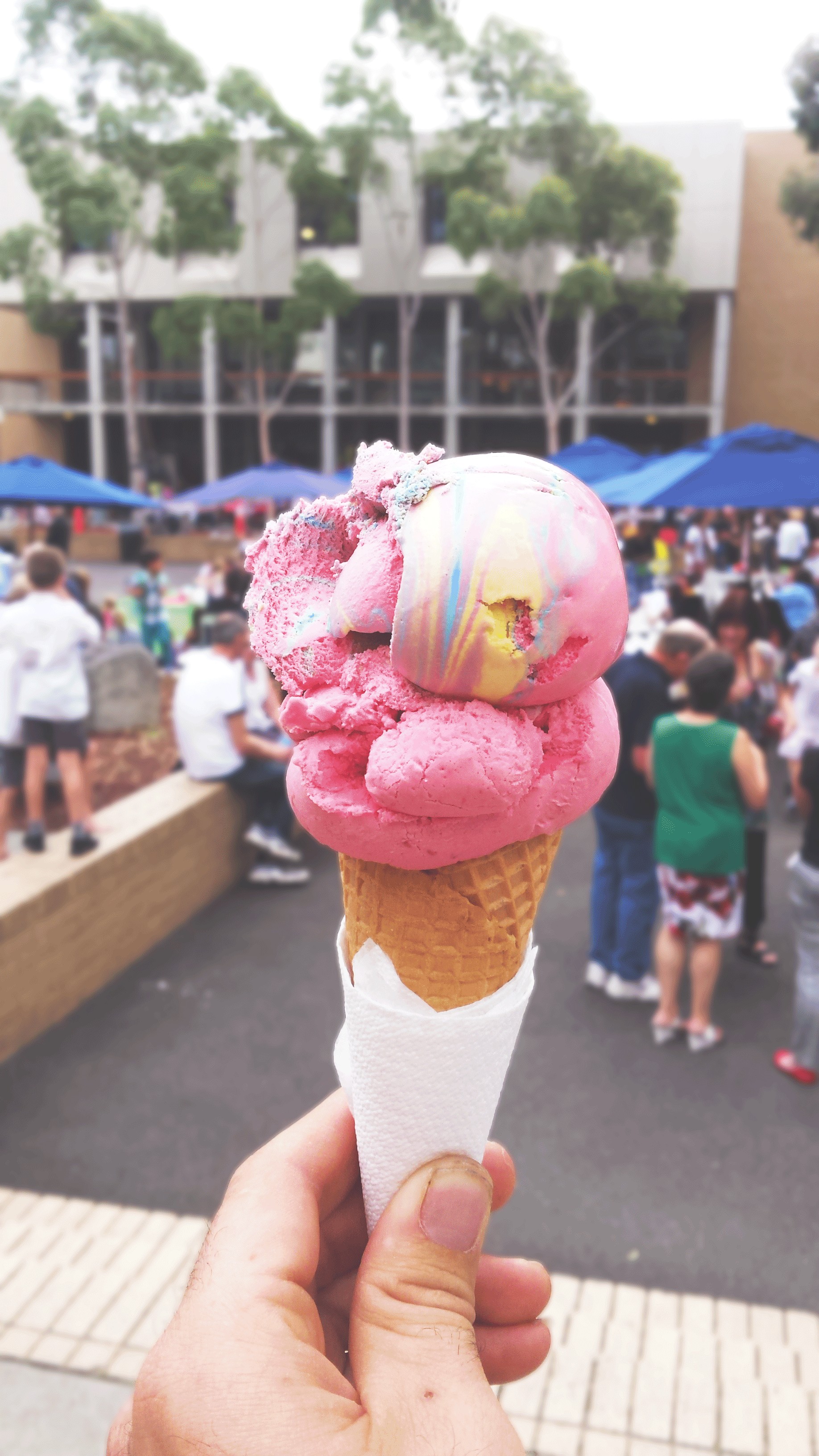 We source our gelato locally from a Melbourne based, Italian couple who pour a lot of love into the art of gelato making.
We have vegan, and gluten free options available! Feel free to ask us for recommendations :)
Gelato

Banana
Blue Heaven
Bubble Gum
Cappuccino
Chocolate
Cinnamon Donut*+º
Coffee
Hazelnut*
Liquorice
Pistachio*
Rainbow
Roast Almond*
Vanilla Bean*º
Zabaione*º
Sorbet

Blood Orange
Coconut*+º
Forest Fruits
Green Apple
Lemon
Limoncello
Mandarin
Mango
Passion Fruit
Pineapple
Raspberry
Red Bull
Strawberry
Watermelon
S/berry & Cream
Salted Caramel
Snickers*
Tim Tam+º
Tiramisu*º
Choc Chip*
Choc Mint
Bounty
Baileys
Toblerone Dark*
Yogurt S/berry
Yogurt Mango
Apple Pie
Biscuit*+º
Boysenberry
Butter Scotch
Cherry Ripe
Dandy Candy
Ferrero Rocher*
Honeycomb+
Kinder Surprise*
Oreo*+
Rum & Rasin
White Choc R/berry Swirl*
(+) = Contains Gluten × (*) = Contains Nuts × (º) = Contains Egg
Note: All flavours may contain traces of nuts, egg, gluten and dairy.
YES! WE DO FUNCTIONS!
From private parties to weddings – we're ready to make your event a lil' sweeter.
Call 0447 542 403 anytime, or get in touch below.
Follow us on Instagram for more sweet snaps!